Meet the Author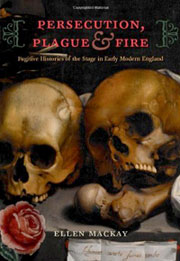 The College Arts & Humanities Institute (CAHI) and the Renaissance Studies Program invite you to a presentation by Ellen MacKay on her book Persecution, Plague and Fire: Fugitive Histories of the Stage in Early Modern England
5:00 p.m. Thursday, January 19th, 2012
College Arts & Humanities Institute
1211 East Atwater Avenue
The theater of early modern England was a disastrous affair. The scant record of its performance demonstrates as much, for what we tend to remember today of the Shakespearean stage and its history are landmark moments of dissolution: the burning down of the Globe, the forced closure of playhouses during outbreaks of the plague, and the abolition of the theater by its Cromwellian opponents. Persecution, Plague, and Fire is a study of these catastrophes and the theory of performance they convey. MacKay argues that the various disasters that afflicted the English theater during its golden age were no accident but the promised end of a practice built on disappearance and erasure-a kind of fatal performance that left nothing behind but its self-effacing poetics. Bringing together dramatic theory, performance studies, and theatrical, religious, and cultural history, MacKay reveals the period's radical take on the history and the future of the stage to show just how critical the relation was between early modern English theater and its public.
MacKay works and writes on early modern English drama and public culture (including sermons, royal entries, ballads, mayoral pageants, beast baitings, polemics, satires and feuds) as well as Western theatre and performance, from the Greeks to the present. Her approach to the Shakespearean stage is driven by the epistemological problems that the theatre poses to a culture eager to draw a clear line between artifice and authenticity.
MacKay is an Associate Professor in English.
If you have a disability and need assistance, accommodations can be made to address most needs. Please call 856-1169 for assistance. College Arts & Humanities Institute